My candles are handmade from only the best materials & ingredients because I want the best for the environment and for your home. 
Read More About:
Caiti's scents
Read.  Smell.  Hear.  Feel.

Learn more about what goes into each scent in Caiti's Candles.
Read More →
Kind Words
I cannot recommend Caiti's Candles enough.  They smell incredible, the sound of the wood wick is deeply soothing, and they have such a simple, beautiful aesthetic. Did I mention that they smell incredible?  Caiti packages them with such care that they always arrive in pristine condition, and she must have some in at the post office or something because they always arrive in record time, usually earlier than the estimated date on tracking.  Buy one and I swear you'll be hooked.

Missy
Amazing candles! I purchased the Cinnamon Chai and it smells so good! Arrived much faster than I anticipated and the packaging is so well thought out and adorable. Definitely purchasing more in the future (especially if the Melted Paddlepops restocks so I can try it out)!!

Emily
The Birch and Fir Candle is insane! The best way to describe it would be that it smells like nature! The scent isn't overpowering and I find it to be relaxing and refreshing. I also loved the packaging - eco-friendly and simple while still feeling and looking great. Not to mention in my box I got some really nice little cards explaining the candle I bought and its scent notes along with another card explaining how to properly use and tend to a wood wicked natural candle. 

Jacob
Great candles! I got the Texas Spring and I cannot stop smelling it! Also excellent packing and shipping! Can't wait for the next drop so I can get some more smells! Thanks Caiti!

Justin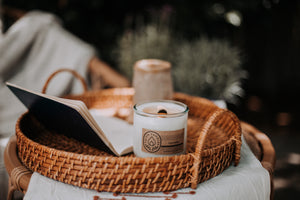 Caiti's Candles:
The Story
I'm a full-time student of science and philosophy at
the University of Texas, a writer, a mental illness
advocate, and a plant fanatic...
Read More